Pat Watts and Todd Steelman launched the Windriders Flying Disc Club in 1990. They ran "mini" tournaments including the World's Biggest Disc Golf Weekend which began to attract new players to the sport.
Tami Pellicane (a former disc golf world champion) started the Llano Estacado Frisbee Disc Association a few years earlier; members played disc golf, ultimate frisbee, double disc court, and guts. Tami, Nick Hart, Pat, and Todd began raising support for a 9 hole course to be installed in Mahon Park. Tami also organized events at Mahon Park which was originally a pole hole course. The city of Lubbock, Orlandos restaurant, and Frito Lay sponsored baskets at Mahon Park. Gary and Karen King of Buffalo Beano were big supporters of disc golf in Lubbock. They sponsored disc events (disc golf, distance, putting, canine frisbee catching) at the annual "Kite Fly and Frisbee Fling".
There was a close relationship between the Lubbock, Amarillo (John "Rock" Stewart) and Big Spring (Greg Brooks) disc golfers. The first PDGA tournament in Lubbock was the "Prairie Dog Pete Disc Golf Classic" held at Mackenzie Park in 1989 (Tournament Director: Tami Pellicane).
The city of Lubbock installed a memorial grove and some volleyball courts in Mahon Park which increased the traffic in the park and led to some conflicts between disc golfers and other park users. Pat Watts made a request to the city and approval was given to move the disc golf course at Mahon Park to Mackenzie Park.
Mackenzie Park was much bigger than Mahon park which would allow for a long, challenging 18 hole course; in fact one of the holes was close to 1000 feet! Mackenzie Park also had some unique elevation changes; the "cliff shot" allowed players to shoot at a target 484 feet away, crossing the Brazos river to an island green. Mackenzie Park also contained large trees and water hazards; both somewhat rare in Lubbock!
Mackenzie was in bad shape and required many hours of tree trimming and weed eating to make the fairways for the course. Larry Foster led the Windriders in carving out the new course. Only nine baskets were installed at first; the back nine targets were 4 x 4 posts. Matt Ryan started running "mini" tournaments each week to raise money to purchase more baskets for the course. Several players also purchased extended and "lifetime" Windrider memberships ($100) to help secure the rest of the baskets for the course.
The Windriders decided to run a tournament at the new Mackenzie Park Disc Golf Course in 1992 called the "Windrider Pro-Am".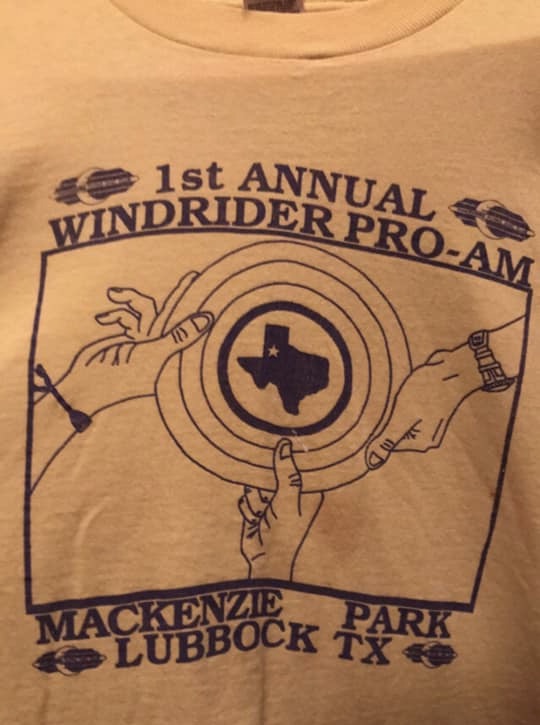 The tournament was renamed "Big Arms on the Brazos" in 1993.